Pimps N Hos Win! The team of Ryan Halloran, Ed Noll & Shadd Smith won Saturdays Mid-America Cyclo-Cross Relay Championships. They narrowly beat Cow Town Cycling Team wich was made up of Teresa Jarzemkoski, Chris Locke & Damian Almanza. Full results and story coming soon.......New Kansas State Cyclo-cross Champs are: Shadd Smith, Jessica Dress, Chris Hall, Christopher Locke, Scott Hammack, Charles Jenks, Marian Smith, Teresa Jarzemkoski, Glenda Taylor, Bill Marshall, Eric Struckhoff, Steve Songer, Curt Shelman, Dean Parker & Dan Perry. Full Results and story coming mid-week (need some rest).
Championship Weekend The first weekend in December will decide cyclo-cross champions in both Missouri & Kansas. First is the 2003 Kansas State Cyclo-cross Championship held at Pierson Park, Kansas City, KS. Also to be held on December 6th at Pierson Park is the Mid-America Cyclo-cross Relay Championships. For Flyers visit
http://multisportmarketing.tripod.com
. On December 7th, Columbia MO will host the 2003 Missouri State Cyclo-cross Championships. For more info visit
http://www.stlbiking.com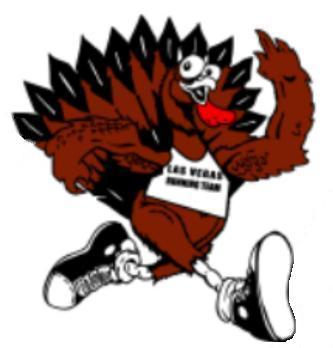 Lone runner kicks some biker butt. Damian Almanza once again proved that runners and MTBer's can be competitive on technical singletrack as he handely won the November 22nd Turkey Trot Grudge Match at Clinton Lake State Park....A frozen turkey was given to the winner for his efforts. Top Results:1. Damian Almanza 29:28 2. Gerard Arantowicz 30:28 3. Craig Myers-Arenth 4. Toh Yahl Full Results coming soon....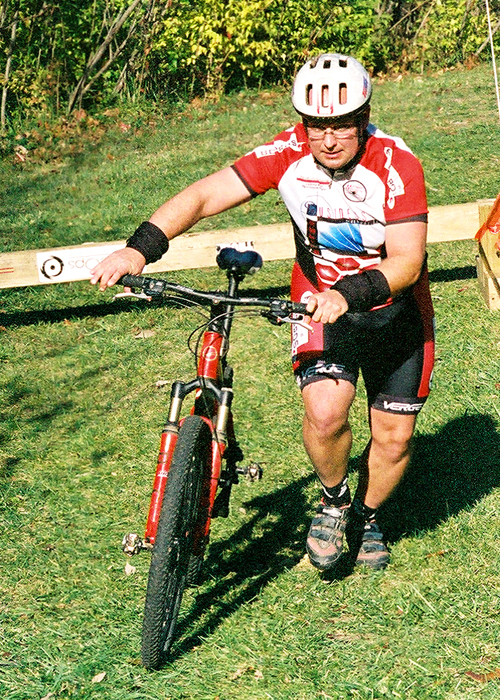 Havens Park - Sunday was the annual trek up to Leavenworth, KS. The Santa Fe Trails team and Lantarn Rouge put a good show. A few BBRT members made the trip, but don't know how their races went because the editor of this site never got a race report from them. I found the results at
http://www.slimenundgrossen.com/hr.htm
Next cyclo-cross race is the 2003 Kansas State Cyclo-cross Championships brought to you by Multisport Marketing
http://multisportmarketing.tripod.com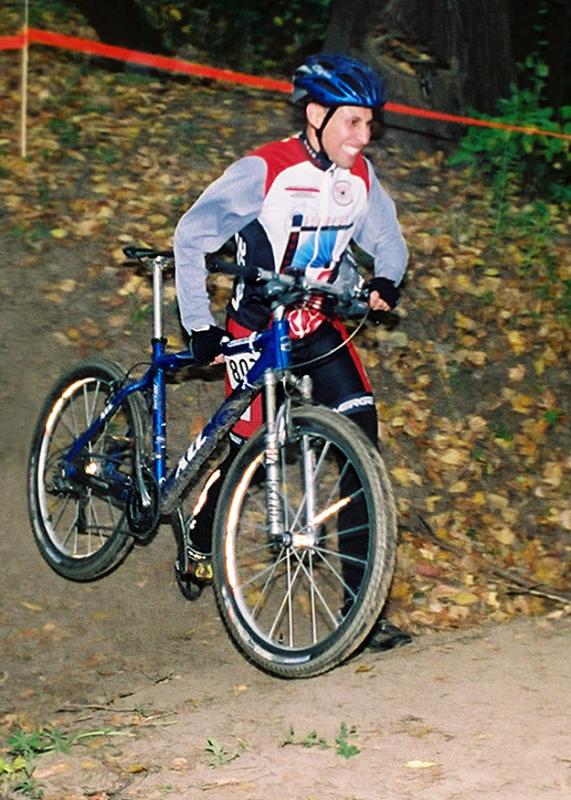 Damian Dominates. In only his second cyclo-cross race, Damian Almanza dominated the Men's C class in Sunday's CrossLogic Cyclocross Challenge. Other BBRT members to have great races were David Pitt who got 2nd in the Men's B and in his first cyclo-cross race Mike Classen got 9th.....In the A categories, Steve Tilford & Catherine Walberg won in dominate fashion. Other class winners were Steve Songer, Dean Parker, Mark Smelser, Mike Koons, Same Harrison, Justin Matthews, Jeff Unruh, Marian Smith, Madeline Finch & Kelly Cool. In the Team Relays: KCOI narrowly edged out Bikes & Boards for the win. Team X rounded out the podium.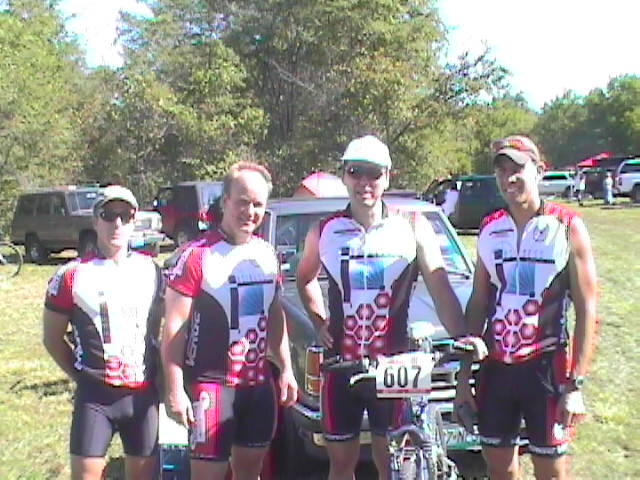 Mike Classen not picture - out on the course
Bikes & Boards Wins RIM 12 Hour!
The team of Gerard Arantowics, Damain Almanza, Brian Bass, Mike Classen & Chris Locke won the 5 person open division. Great rides were turned in by everyone as BBRT lead from start to finish. Full story coming soon.....Also doing great was Ryan Turner who got 10th in and completed 55 miles in the 6 hour solo division. This was Ryan's first MTB race. Full results available at:
http://www.heartlandrace.com/Rim2003results.htm
Blast from the Past:
Rob Prevost on his old Centerion bike.