9/09/03 - Final Results for LMBC Training Series:
1 William Flores 84 wins $100
2 Craig Myers-Arenth 71 wins $50
3 G Arantowicz 50
4 Lyle Riedy 49
5 Brian Bass 44
6 John Flynn 43
7 JL Cleland 34
8 Curtis Martell 30
9 Greg Schroeder 29
10 Tom Yahl 28
Best Beginner Steve Garlow
Best Female Laura Cheek
Best Blue Trail Time Trialist Hiram Salvini
Best Overall Time Trialist Lyle Riedy
Best Grudge Match Competitor Erik Nelson (runner)
Best River Trail TT Chris Mefford 30:35
Stage Winners: JL Cleland, Joe Vohland, Hiram Salvini, Ashley
Oelschlaeger, Greg Schroeder, John Flynn, Chris Mefford, Lyle Ried
Riedy, G Arantowicz, Damian Almanza (runner),

9/2/03 - Grudge Match II
Despite experiencing numerous mishaps and fumblings on the rocks, the riders redeemed themselves at the second Grudge Match. Runner Erik
Nelson played cat and mouse with the lead bikers for most of the race,
as John Flynn couldn't keep the rubber end down to save his life
(despite winning). This night proved to be an interesting one, as it
showed that the stronger runners do indeed have the advantage on the
steeper climbs at Clinton. Don't let the results fool you, this was no
cake walk for the riders.

Next Grudge Match will be sometime in early October, hopefully on a
Saturday morning.

Runners 24 points Bikers 40 points

1 John Flynn 22:09 biker
2 Sean McMillen 22:22 biker
3 Erik Nelson 22:52 runner
4 Curtis Martell 23:59 rider
5 Mike Classen 24:38 runner
6 William Flores 24:44 rider
7 G Arantowicz 25:20 rider
8 Dan Meenehan 25:34 runner
9 Mike Eglinski 26:03 runner
10 John Winkler 28:54 biker
11 Gene Wee 31:30 runner

9/7/03 - Tour De Lizard (from Mike Classen)
I took 1st out of 15 in the 40-49 men sport group yesterday. The
course, consisting of approximately 16 miles (two eight mile laps) was
very challenging (steep and hilly rocky terrain). I finished the race
in exactly 91 minutes (6 minutes faster than last year). I did take
quite a fall in a bed of poison ivy. Hope I'll OK in a couple of days.
Also there was a tense moment after the race. I was called to the
finish line approximately an hour after the race. It turns our the
scorers didn't see me finish. I ended up convincing them I finished and
had several people vouch for me (never had that happen before).
9/2/03: River Trials Fun Race:
September 2nd River Trail Fun Race
1 Jonh Flynn 35:58
2 William Flores 38:05
3 Craig Myers-Arenth 38:49
4 Dan Brobst 47:16
5 Lyle Riedy 47:17
6 Neil Taylor 47:17
7 Greg Schroeder 49:12
8 Larry Spray 50:00
9 Chris Winn 53:38
10 Brian Bass 53:39
11 Kevin Liu 53:40
12 Jeremy Glauner 58:40
13 Sophia Liu 59:10*
14 Brooke Schroeder 59:13
15 Rachel Wells 59:15
16 Lisa Hallberg 59:17
*regulated for cussing out the promoter


7/20/03 - Show-Me-State Games Triathlon
Chris and Carolynn made the trip to Columbia to participate in the SMSG Triathlon. An event which consisted of a 1/2 mile swim in a filthy body of water that Columbia calls a lake. A 21 mile bike course on what the race director calls rolling hills(i.e. hilly as hell). The Triathlon finished with a 5K run on the MKT Trail (the only thing easy about this event) All this in near 100 degree temps....After seeing the "lake", Carolynn decided that she would just use the day for training and ride the course. She saw a couple of things floating in the water and just could not bring herself to enter this body of water.....For Chris the swim was a good one, except for few off line swimmers who couldn't swim straight - a few quick jabs to the ribs got them going in the right direction. At the 12:50 mark the swim was complete. Then came the "rolling" bike course. Maintaining momentum was the key on this course. After watching several days of the Tour, Chris decided to use a very low "aero" position - that ended up working very well. A 21.89 mph average was very good on this course and resulted in Chris being one of the first bikes back to the transition area. Finally the run greated everyone. After a quick 6:30 mile, the final 2 miles (seemed more like 4 miles) were completed in a rather slow 8 min range. Due to the slow run Chris fell back to 4th place. Still rather good with the level of competition....MTB race in 2 hours - damn its hot.
6/10/03 - LMBC Tuesday Night MTB Series
River Trail Race #5 June 10, 2003

10 Miles

1. G Arantowicz 43:56
2. Brian Bass 44:13
3. Craig Myers-Arenth 44:37
4. JL Cleland 44:53
5. Greg Schroeder 49:00
6. Tom Yahl 49:23
7. Steve Garlow 50:15
Allen Miller DNF


6/8/03 - Half Max & Quater Max Triathlons
Chris, Mike & Rob all made the trip over to St. Louis to challenge the 1/2 Ironman & 1/4 Ironman distances. Overall everyone represented the team very well. This was Mike & Rob's first triathlon and both did exceptional.....more to come after the editor returns from FL.
6/3/03 - Rivertrails MTB Races
Tuesday Night Race - 11.8 Miles
1. G Arantowicz 53:36
2. Craig Myers-Arenth 53:47
3. JL Cleland 55:16
4. Curtis Martell 56:33
5. Allen Miller 58:35
6. Peter Haxton (10 miles) 59:32

June 3, 2003 Overall Tabulation
1. Gerard Arantowicz 25
2. Lyle Riedy 23
3. William Flores 12
4. JL Cleland 9
5. Craig Myers-Arenth 9
6. Larry Spray 9
7. Chris Mefford 8
8. Curtis Martell 7
9. Dave Vieaglas 6
10. John Stong 5
11. Brian Bass 3
12. Stacy Lamar 2
13. Steve Garlow 2
14. Allen Miller 2
15. Heath 2
16. Peter Haxton 2


6/1/03 - Midwest Fat Tire Series
Sport 30 - 39 Male:

Damian Almanza used his rage from the previous day's disappointment to
take the Farlington event of the Midwest Fat Tire Series. Damian set a
blistering pace in the 15.6 mile event from the very start, claiming he
was riding on anger built up from his Duathalon defeat at Witchita.
Apparently, Damian was disadvantaged in the Duathalon because he used a
mountain bike instead of a road bike. Garnering his energy from the
"Dark Side", Darth Damian rode the rocky and undulating 15.6 mile
distance in 1:17:55, almost 3 minutes in front of second place. The
course was a 7.8 mile circuit of varying terrain, utilizing the wooded
trail system at Crawford State National Park.

The Sport 30-39 event was saturated with Bikes & Boards teammates, with
Gerard Arantowicz taking 2nd place, John Obberrieder 5th, and Brian Bass
6th.

Future Bikes & Boards rider Chris Mefford took an impressive 2nd place
in the expert race.

Dry Creek Fat Tire Event, Farlington Kansas June 1, 2003
Sport 30-39 15.6 Miles
1. Damian Almanza 1:17:55
2. Gerard Arantowicz 1:20:32
3. Todd Selvey 1:21:21
4. Ron Acklin 1:28:25
5. John Oberrieder 1:28:45
6. Brian Bass 1:29:49
7. Rusty Parkhurst 1:30:49
8. Eric Larer 1:33:35
9. Louis Schultz 1:59:50

5/31/03 - Jesse Blancarte Memorial 10K Time Trail
Men 18-35:

About the only thing I can say about the race on Saturday is that I don't feel I did very well with the 16:53 time, which means I only had an average speed of around 22mph. I think there were around 50 riders in 4 categories: Juniors, Women, 18-35, and 35+. I was in the 18-35 category and the only other racer I knew personally was Mike Moore (Rob and I have raced with him in the Cat 5 races earlier this year) , who came in with a time of 15:00 (yeah, almost 2 minutes faster!!) - which placed 3rd. The race was virtually flat and headed east for 3 miles, then turned back and came back to the finish line. The wind was biggest factor, which seemed to swirl around at times but was mainly from the NE at 15-20 mph with gusts that exceeded that. The temperature was ideal in the upper 60's. The 3 miles out was mainly against the wind and the 3 miles back was mainly with it. The riders left on 1 minute intervals at around 8:30am, which meant if you rode well, you would probably pass some of the riders in front of you. I was waiting to see if the final results were going to be posted on the web, but haven't found them yet. I seem to rember most of the winners were from the KCBC team. Looks like I placed 9th out of 11 in my category. I got stuck behind some of the slower bikes, so that may have given me a 'false sense of speed' instead of pushing myself a little more. I actually passed 2 people during the race, but I guess I need to pass 4!! Personally, I don't think the 16:53 time was very good ... looks like I have some work to do :~) - Mike Turner
5/18/03 - Midwest Fat Tires Series
Sport 30 - 39 Male: The SAC river trails were muddy, wet, and slick. The start was on a gravel road that quickly funneled into tight single track within the first minuets of racing. I managed to tuck in behind the two riders leading the pack. There was a series of ups and downs with the course winding along like a venomous snake. When we hit the first true climb I seized the opportunity and jumped passing second place. I held on to the first place rider then jumped again on the next short climb. I didnt look back but could tell I was putting distance between he and myself. I lead after the first lap of the five-lap race. Tragedy struck on lap two when I crashed traveling 22.5 mph on a wet, muddy, grassy down hill trying to overtake a slower rider. I managed to get to my feet but was passed by the second place rider. In the third lap it appeared I was catching him but then he was just gone. I completed the race with a second place finish. - Damian Almanza
5/18/03 - Bikes Source Championship MTB Series
Kids 8 under: Jacob Pitt lead from start to finish with Christopher Locke crashing hard. Jacob got the holeshot and opened up a small lead. Christopher closed the gap on the small climb, but crashed hard on the top section. Jacob cruised to the win. Christopher dusted himself off and finish the race despite a small tiff with his parents....
Clydesdale: Gerard continued his dominance. Taking 1st place on the very demanding Weston course. Gerard now has a good points lead. Lets hope he is able to take the series title. This would be great for the team if he can.
Sport 25-29 Male: The babies drop got the best of Mr. Taylor. Big Mike had trouble with little Mike - something about racking his privates on his top tube. More on this later....
Sport 30-39 Male: David Pitt put in another strong ride to finish in 4th.....Brian Bass recovers from a little to much excess on Saturday night to take 12th.....A little mechanical problems hit Mr. Locke hard this morning, but with the help of Doug Long (thanks for the rear wheel Doug) and Gerard (thanks for helping with the front flat) he was able to race and continues getting on the podium. A 3rd place keeps him in the points chase, but he needs to win if he is going to win the series.
Sport 40-49: Mike Classen, our newest member, takes the win despite getting lost on the first lap. Mike followed a competitor the wrong way during the opening lap. He quickly recovered and worked his way up to the front.
5/10/03 - Joe Martin Stage Race, Fayettevelle, Arkansas
Cat 3: Ed Noll made the long trip down to Arkansas to race with the big boys. In Saturdays road race, Ed got in a 5 man break that stayed away for 35 miles. They were eventually caught. Ed finished in the pack.....Saturday evening was an uphill time trial. Suffering like the dog he is, Ed managed a top 20 placing.....Sundays Criterium was very unlucky for Ed. The pace was so high (or that he can't mount a tubular tire) that Ed rolled one of his tires off. A crash on the last lap while sprinting for the win brought an end to Ed's day.
5/3/03 - CGSC/MWR Triathlon:
Another great day for a race in Leavonworth, KS. This was my first outdoor triathlon of the season & I was not to confident going in. I have been nursing an injured knee and an "always tired" problem so my goal was to just use this race as training......There was over 200 racers - all looking very fit- lined up for the start. I was very happy with my swim and finished first in my group with a sub 3 min time ( pool swim). Little slow in the transition because I could get my damn BBRT Jersey over my fat wet body. Bike went very well. First time in a several weeks that I felt strong. I set off on the 14 mile bike course. Course was very hilly and have dozens of corners witch worked to my advantage. I was going great until I took a wrong turn because the course was not marked at this "Y" intersection. (I followed the guy in front of me). After loosing several minutes and having to climb this big ass hill that I just when down I was back on course and very mad. The course was two laps of a 7 mile course. I was passing riders like crazy. Took alot of chances in the corners trying to make up the time that I lost. Ended up with a good bike split despit my little off course excursion (22 average with the hills).....Run was good for me. Finished the 5K on tired legs with a time of 22 min. Overall time was 1:09. 16 overall out of over 200 racers. Missed 2nd place by 8 seconds. Not bad considering I lost 3 plus min. with the wrong turn - Chris
4/27/03 - Joseph Sheehan Memorial Road Race
Master's 35 +: What a great day for racing. A wonderful 52 mile course that had some very challenging climbs and a few dogs to help pickup the pace only added to the fun. Chris learned two lessons today: 1. Stick to the Cat 4's. The Masters's has some Cat 2'/3's that are very good. 2. Don't run before a 52 mile road race.... An early breakaway that contained Bruce Tanner, Eric Struckhof & Tony Smith to name a few got away early. The chase group tried to close the gap, but was unsuccessfull. Pace was still very hard and remained high for the entire race.... Chris ended up getting a cramp on the final climb and ended up a disappointing 13th. Still it was a good workout for his upcoming 1/2 Iroman triathlon.
4/19/03 - Sprint into Safety 5K:
5K Run ( by Damian Almanza):

It was storming Saturday morning. Between 35-40 runners braved Saturdays showers to partake in the Spring for Safety Run. At the gun, I tucked in behind the lead hoping he wouldnt make a move too early in the race. We passed through our first mile in a fairly comfortable 5:45 with the first half-mile being downhill. I knew the last half would be hard to I surged hard just second we passed the turn around cone. I gained the advantage and moved into first place. I kept pushing knowing that I soon would be approaching a difficult half-mile climb to the finish. With the rain pouring, I drove hard on the climb feeling my lungs wanted to burst, and my arms feeling like lead. I approached the finishlooked back and crossed, winning with a time of 18:18. Second place finished about a minute back. That race was definitely one for the mountain bikers.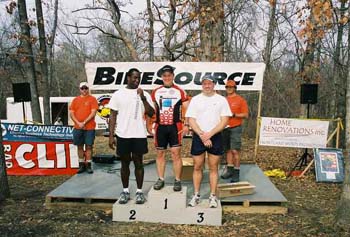 4/13/03 - Bikes Source Mountain Bike Champion Series:
Clydesdale: With very large fields, due to rider coming from several states, Gerard new he needed to dig down deep to regain his points lead (that he lost the previous day). His teammate suggested he try a Red Bull energy drink. With his new "wings" Gerard was able to regain the points lead with a 1st place finish.
Sport (25 - 29): Micheal Taylor almost didn't get to race today. Some pre-race bike tuning almost rendered his bike unrideable. He was able to get everything working and put in strong ride.
Sport (30 - 39): David Pitt and Chris lined up to battle each other. Chris got another holeshot, but was passed before the single track. David got off to a poor start and had to fight his way up to the leaders. Positions changed quite a few times during the last half of the race. David rode strong to finish 4th in this first mountain bike race of the season (first Sport class race also). Chris didn't have his legs today by held on to take the final podium spot in 3rd.
4/13/03 - MWFT # 3 , Noesho, MO
Sport (30-39): Damian Almanza and John Oberrieder made the trip down to Noesho to compete in Sundays 3rd round of the Fat Tire series. Damian took the class win with John having his best finish of the year - a 5th place.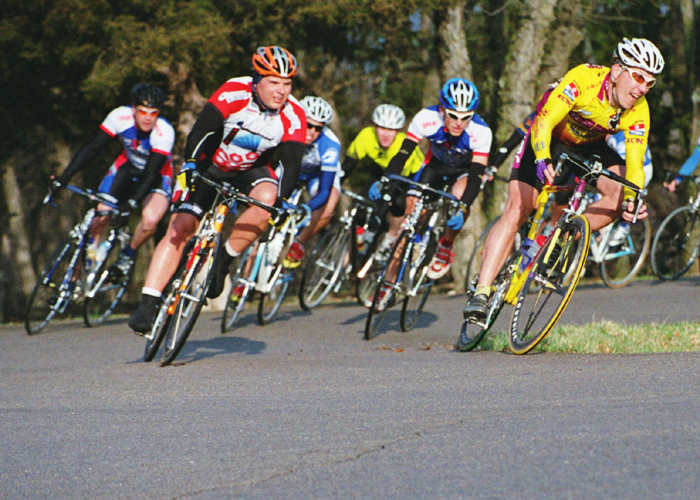 4/12/03 - Amelia Earhart Criterium
Cat 1/2/3's: It was a hard days work for our Mr. Noll. He worked hard and got in a small break with Steve Rouff & Shadd Smith. Ed and Steve did most of the work to keep the group away. Mr Smith took advantage of this and was able to take the win. A 3rd place by Ed is a very impressive finish - racing with Cat 1's & 2's is very hard.
4/12/03 - Bike Source Mountain Bike Championship Series # 2
Sport Men (30 - 39): The top mountain bike riders in the Midwest lined up today for 18 miles pain and suffering on some of the best singletrack that this part of the country as to offer. Chris got of to a good start and was soon in the lead. This was a mass start event, so it was very difficult for the first 1/4 of the race. Mr. Locke made a small mistake and tried to keep up with all the Pro and Expert riders for most of the race. With about 6 miles to go, fatigue set in and he was not able to answer the push by the now leader. A 2nd place finish was good for the points series.
Clydesdale: Gerard got off to a good start also and held the lead for most of the race. Late race fatigue also got the best of him. A 4th place was his reward for handing in there until the end. Gerard promised things would be different in Sunday's event.
4/11/03 - Bunny Chase Criterium, Lawrence, KS
All Cat's: In this unique event, the slower riders start first - Juniors, Women, Cat 5 and so on. Ed and Rob worked together once the 1/2/3's caught the leading pack. Ed did very well to place 5th in the fun event. The team looks forward to this weekends Bunny Chase.
3/29/03 - Rudy Project TT & Mojo's Criterium
Cat 5's (from Rob Prevost): I don't know how Dave did in the prologue yesterday, but in our cat V crit here's the rundown. I led out for most of the race. I stayed back for the 1st sprint lap and then pressed it on the winners of the sprint. I took second on the second sprint lap.Dave helped lead me out for the next lap and a half where I made a move just after entering the chicane. I took the lead and picked up the pace toward the finish. I got passed right before the final sprint by Mike Palitto and almost got passed again as I couldn't find my big gear, but managed to pull off second place. This was the most competitive cat V field we've had yet. Dave really helped me out by pulling for me on the last lap and a half when I was recovering from the second sprint. He deserves credit.
Rob
3/23/03 - Ride with the Devil Mountain Bike Race
Sport 30 - 39: Our own Damian Almanza took top honors today. Battling cramps and ticks he easily won beating a packed field of riders. Damian now leads the series.... John Oberrieder rode hard and finished 10th in his first race of the season.
Single Speed (open): Cherry pickers were out in force today. Chris got the holeshot and hung close to Bill Stolte (the cherry) until he got a flat. After a quick tire repair he gave chase again only to get another flat (need to speak to his mechanic about this). Chris ended up working his way back up to 2nd place in the end.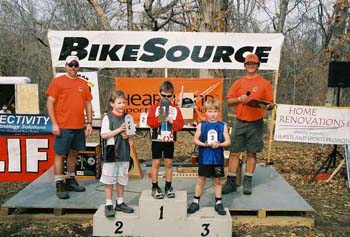 3/16/03 - Bike Source Mountain Bike Series #1
Boys 8 and under: From start to finish Christopher Locke contolled the first round of the series. The course was a little tacky and soft, so Christpher opted for a low gear range. He was able to get the "holeshot" and slowly pulled away the entire race. This was Christophter first race of the season.
Cyldesdale: Gerard Arantowicz started off slowly, but quickly took over first place and kept it the until the end. A very strong showing by Gerard.
Sport Men 30 - 39: Chris Locke didn't have the same luck with his start has his son did. A 30th place start was not the ticket on the technical course. By the end of the race Chris had worked his way up to 4th place - making several enemies along the way.
Sport Men 20 - 29: Mike Taylor did well to place 8th. The course was very technical and wet in places. Mike took a few spills along the way. I look for Mike to be on the podium very soon.
3/15/03 - Mojo's Spring Criterium Series
Youth Girls: Ashley Noll wins two in a row and takes over the points lead.
Cat 5's: Robe Prevost continues to do well. Takes a 5th place on Saturdays new course.
3/08/03 - Mojo's Spring Crit # 2
Youth Girls: Ashley Noll had a great ride and won the Youth Girls class. Ashley is on a role.
Cat 5's: Rob Prevost wins a spint in his first criterium. Overall placing was 6th.
Cat 4's: Chris Locke did well to place 6th with 43 riders (a record turnout). He won the 3rd sprint of the day and was in the hunt the entire race.
Cat 123's: Ed Noll fought hard for a top 10 placing. Watch for Ed when the seperate the 3's.
3/2/2003 - 12 Miles of Hell
Gerard Arantowicz made the trek to OK to compete in this classic event. There were close to 800 riders with Gerard placing 74th. Pics and story soon.
3/2/2003 - Perry Road Race
Cat 5's : David Pitt places 6th on this demanding road race. The large hill on this course caused several packs to form making staying with the lead pack hard.
3/2/2003 - Froze Toe's
Juniors : Ashley Noll win's her first road race.
Cat 3's : Ed Noll finishes a strong 14th place in a tough Cat 1/2/3 class.
Cat 5's : Rob had some bad luck with bike problems.
3/2/2003 - JCC Indoor Triathlon
Masters 30 - 39: Chris makes it 4 win's in a row at this early season triathlon. With a personal best time of 36:12 he had the 2nd best time of the day.
3/1/2003 - Mojo's Spring Crit Series
Cat 4's : In the 4 sprints of the points race, Chris placed 1st, 2nd, 2nd and 4th for an overall finish of 2nd place. The weather was very cold and made for some tough/hard racing.
1/12/03 - Pure Cross #3
David Pitt did the team proud by winning the Cat 4/5 class. David put the hammer down with about 15 min. to go and opened up a large gap - easily winning on this cold winters day.