Tour De-Bump
The 14 annual Tour De Bump was held in Garnet, KS with mild to warm temperatures and very little wind. The off-road duathlon consisted of a 2 mile xc run, followed by a 12 mile mountain bike and ending with a 2 mile xc run with most of course in deep, wet grass. 41 people compteted in the individual class...five of those being women. There were 3 mens team and one mixed. Damian Almanza was the overall men's champion with a time of 1:21:55. Second place oveall was Mike Classen with a time of 1:24:39 making it a 1,2 for Bikes and Boards Racing. In addition Mike was first in the 40-49 age group putting him nearly 4 min ahead of second place for that age category. The women's champion was Angela Redfern from Emporia, KS with a time of 1:39:28 followed by Michelle Joest, from Lawerence, KS with a time of 1:51:00.

UltraMax Triathlon Lake of the Ozarks, Missouri - 2.4 Mile Swim, 112 Mile Bike, 26.2 Mile Run. Belgium's Wim DeDoncker was the class of the field at Saturdays triathlon - finishing in a time of 10:13. Second place finisher Hal McKelvy, Lakewood, CO was not able to match Wim's running pace and finished just over 17 min. behind. Using her home field advantage, Amy Livesay out rode second place finisher Lizzie Sloan to finish in 11:39....BBRT's Chris Locke had to overcome some serious stomach/nausea problems to complete his 4th Ironman distance event. Not able to eat anything since the 40 mile mark of the bike, Chris was a "walking dead man" during the run portion - finishing well off the pace with a 15:42....John Desjardin just beat the cut-off time of 17 hours and was rewarded the elusive Last Finisher Award.
Tall Oak Challenge Recent rains made the Binder Lake course a real challenge. In the Sport 30 - 39 Male class BBRT member John Oberrieder found this out by going down hard in a particular nasty section. John did well to work his way back up to 6th place. Damian Almanza continued to pad his points lead by placing 2nd and looks like he will win the series title...In the Single Speed class Dan Fuhrmann used his local track knowledge to edge out (more like whip up on...)the SS points leader Chris Locke. The final round of the MWFT will take place October 26th.
Velotek Grand Prix The Warren Middle School course provided for some fast racing. Weather was near perfect, except for a strong wind which made the racing hard. A few BBRT members were on hand including Ed Noll, Mike Taylor and Ryan Halloran.....Ed continued his good form and took 3rd in the Cat 3's.... Ryan looks to be recovered from this accident. Good to see him out there.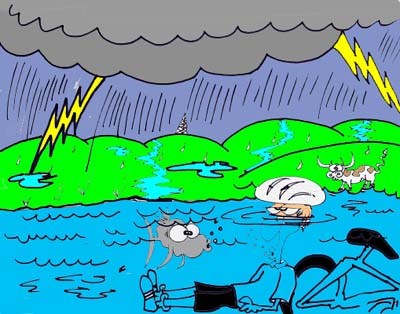 Death Ride
BBRT member Gerard Arantowicz finished 21st out of 80 starters at the 2003 Flint Hills Death Ride. Held in torrential rain that resulted in massive flooding on the 80 milecourse, the Death Ride proved once again to be one of the most difficultmountain bike events in the country. Gerard completed the course in 8 hours, after holding 3rd place in the first hour until he was misdirected off the course by a volunteer. Most of the course was held on gravel roads and doubletrack. There was about 2000 total feet of climbing and various points where the riders had to contend with herds of cattle and steer. It was epic. For a full report visit:
http://www.slimenundgrossen.com/dead.htm
Thole and Turner Topnotch! The 40th Annual Tour of Kansas City was held this weekend. Riders from as far away as Florida came to our great city to compete with KC's best. The racing was intense in several classes with tight racing witch lead to some big time crashes. Two Bikes & Boards members really shined on this weekend. Jill Thole continued her rise to the top by winning the OP Grand Prix Criterium and placing 3rd at the Cliff Drive Classic in the Womens Cat 4 class. Mike Turner came info form just in time to stand atop the Cat 5 podium for Sundays criterium. Mike also had a strong 4th place showing on Saturday. Here are some cool pics of the team:
http://www.photoreflect.com/scripts/prsm.dll?myphotos?a=84426&p=bikesandboards&b=10014
"Landahl Park Challenge"
Round 11 of the Midwest Fat Tire series, the Kansas City Cup was help Sunday at Landahl Park in Blue Springs. With the recent heat wave Sundays race was indead a challenge.... Chris Locke took top honors in the Single Speed class and extended his points lead. Damian Almanza finished a strong second in the Sport 30 - 39 class. With two rounds to go, both look like they are headed to series championships. John Oberrieder moved into 3rd place in the Sport 30 - 39 class with consistent finishes - another BBRT member on the podium. Mike Taylor battled the Sport 20 - 29 class...full results coming soon.
Thole Wins Again!
Two things are HOT in the Midwest: The weather and Jill Thole. Jill made the trek down on Sunday to Pittsburg, Kansas for the Tailwind Cyclist Criterium. This was bad news for all the women as Jill won both the Womens Cat 4 & Open class. Josh Taylor aslo made the podium with a strong 2nd place showing. Only the strongest riders were able to succeed on this day with temps in the 100's and the BBRT showed their strength on this hot day.
Longview Lake JR Triathlon
Over 130 kids come out on July 27 to compete in this challenging event. The TriKC club and Jackson Country Parks & Rec teamed up to bring our children this fantastic event. Kids from has young as 7 years old completed a 100 yard swim, 3 mile bike and a 1 mile run. The older kids up to 14 years old doubled the distance to make this event a challenge for all. BBRT junior member Christopher Locke did very well on the bike & run after a rough swim. He worked his way up to 9th place in the 7 - 8 year old class. "If you teach me how to swim I will have a chance to win", said Christopher while cooling down after the event. No comment from the father.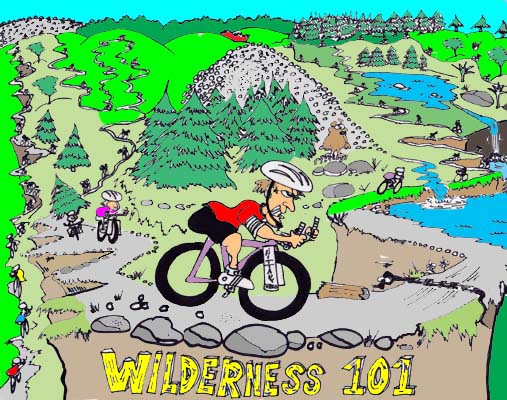 BBRT member Gerard Arantowicz finished the Wilderness 101 MTB race with a time of 13 hours 16 min. At the 50 miles mark Gerard ran into some bad luck and broke a chain. After scavenging for parts, he continuted on his epic journey. Sitting in the saddle for over 13 hours is very hard ( I know from experience) and when you have mechanical trouble it only makes it worse. Congrats to Gerard on doing so well. Click on the pic for full results and a the story on this epic adventure.
Show-Me-State Games
The Show-Me-State Games opened this weekend....the games started with Fridays' opening ceremonies featuring fromer heavey weight boxing champion George Forman...Sunday featured the Triathlon and Mountain Bike races. In the Triathlon, Chris Locke place very well with a 4th place.
Race Results
He then went on to race the MTB event - which was not a very good idea given the high temps.... Damian Almanza and John Oberrieder took 4th & 8th place respectivley in the Sport 30 - 39 Male class. Chris survived with a 3rd place finish in the single speed class.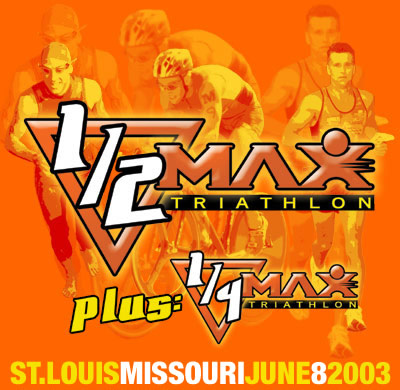 Hit "Refresh" to get page.
1/2 Ironman Triathlon
Chris, Mike & Rob made the trip over to Innsbrook, MO to battle goats, hills & a very windy day. Mike, in his first triathlon, finsihed the 1/4 Max in 3:07. Rob did great in th 1/2 Ironman with a time of 5:53. Chris battled goats all day but still achieved his goal with a 5:50. For a full story see
Race Results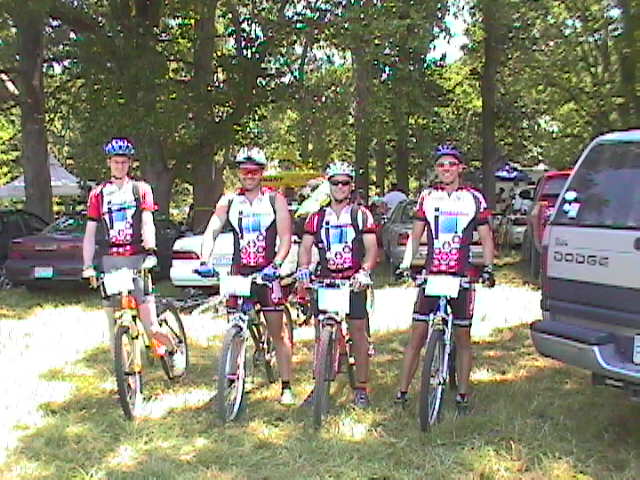 Sho-Me Challenge
Brian, Chris, Damian & John all made the trip out to Warrensburg, MO for round #8 of the Midwest Fat Tire Series. It was a very challenging course and caused problems for all.....Brian was attacked by a large bird but still managed 9th....Chris had problems with keeping his chain on, but still pulled off the win. Damian had the worst luck with a broken seat, but showed a lot of heart by finishing third....John was running a strong 5th but got a flat and fell back to 8th. Next round is July 20 -
http://www.midwestfattire.com